TOKYO (AFP) – Major Japanese bank Mizuho Financial Group is considering slashing its global workforce by about one-third over a decade, reports said, as it looks to replace clerical jobs with artificial intelligence and other technology.
The lender is looking at chopping 19,000 jobs from its current roster of around 60,000 employees in Japan and overseas by March 2027, the top-selling Yomiuri newspaper said Sunday (Oct 29).
It is also eyeing the closure of as many as 30 branches in Japan, out of a total of around 800, the Asahi newspaper said.
A Mizuho spokesman in Tokyo declined to comment on Monday, saying that the firm is "discussing various issues".
The report follows announcements of major job cuts by Mizuho's rivals.
Japan's lenders have seen profits squeezed after the Bank of Japan last year adopted a negative interest rate policy to work alongside its massive asset-purchase programme as part of a drive to kickstart lending and stoke inflation.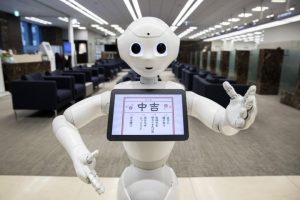 In September, Mizuho rival Mitsubishi UFJ Financial Group said that it plans to cut about 9,500 jobs, or around one quarter of its workforce, within seven years.
Fellow banking giant Sumitomo Mitsui said in May it will reduce what it described as the workload equivalent of 4,000 jobs by March 2021 by digitising clerical processes and leaning on technology more than before.
Mizuho's April-June net profit fell nearly 11 per cent to 118.3 billion yen (S$1.42 billion).